---

Important Update to Poundshop's Rewards Programme
Our "Brands You Love For Less" rewards programme has come to a close.
Don't worry though – points remaining in your account after the Closing Date will be converted into a voucher/ vouchers in line with Poundshop's rewards points value system. The voucher(s) will be sent to you as a unique voucher code. Vouchers can be redeemed against subsequent online shops at Poundshop.com (one voucher per transaction, valid for 6 months from the date of issue of the voucher, subject to additional terms and conditions).

What will happen to my personal data held by Poundshop in connection with the Rewards
Scheme?
Your personal data will be deleted from our third-party rewards scheme system by no later than 14 days after the Closing Date
Poundshop will retain your name and contact information for a period of 6 months from the Closing Date, for the purposes of communicating with you about the redemption of any voucher(s) to be issued in respect of any points remaining in your account after the Closing Date. After this time, Poundshop will delete your personal data, held in connection with the Rewards Scheme, from its systems. Please note that Poundshop may hold your personal data for transactional and marketing purposes, in line with Poundshop's Privacy Policy.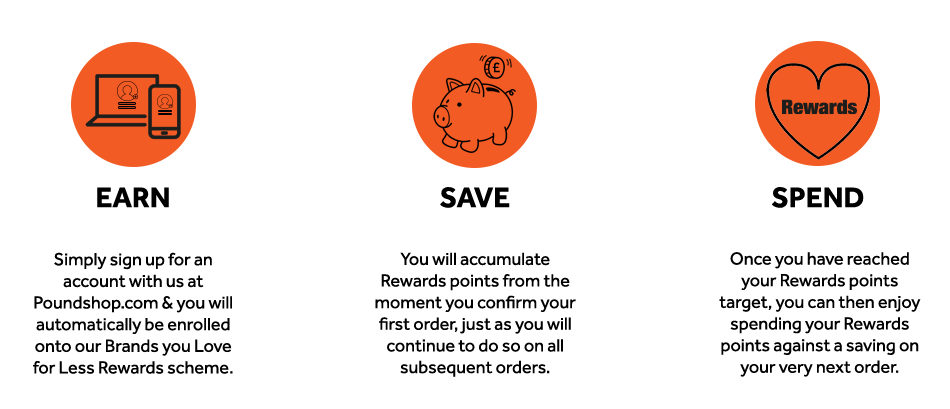 ---
---
COLLECTING POINTS IS EASY
Once you have registered for an account with us at Poundshop.com, as long as you ensure that you are signed in to your account each time you place an order, you will earn 1 Rewards point for every £1 spent with Poundshop.com (excluding shipping).
It is also easy to earn one off additional Rewards points for the following: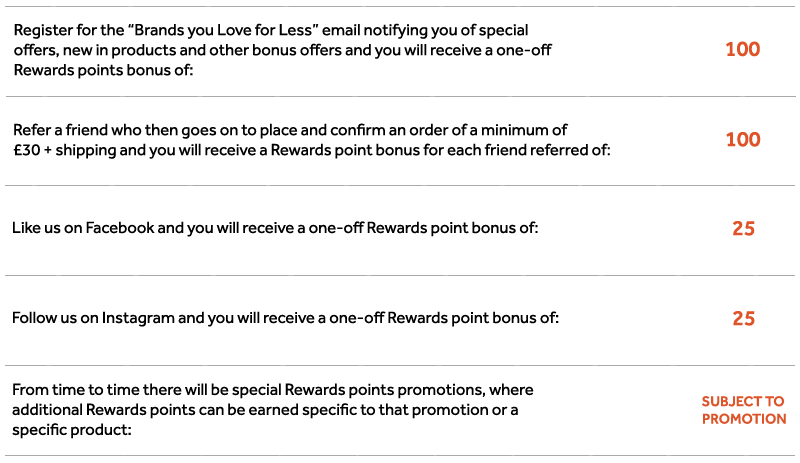 With numerous opportunities to earn and save additional Rewards points such as regular Rewards points promotions, liking us on Facebook or following us on Instagram etc, you will soon be accumulating even more points towards your Rewards target.


---
HOW MUCH ARE "BRANDS YOU LOVE FOR LESS REWARDS" POINTS WORTH?
The more you shop, the more Rewards points you can earn, save and enjoy spending.
The table below illustrates the Rewards vouchers earned at each of the relative Rewards points tiers:


With every order or action you complete, you will be able to watch as your points balance grows, meaning you are one step closer to enjoying Rewards on your future purchases.
All you will need to do is shop our Brands you Love for Less so that you can earn Rewards points towards your Rewards vouchers. It is as simple as that.
Simply earn and save just 100 Rewards points to spend against a £3.00 Rewards voucher. Alternatively, if you chose to continue saving to earn even more Rewards points for a total of 250 points, you can earn yourself a £10.00 Rewards voucher! It is as simple and straight forward as that.
These vouchers can be found in your Poundshop.com account and are redeemable to be deducted off an order of your choice.


---
EXISTING CUSTOMERS FROM POUNDSHOPS OLD LOYALTY SCHEME
How are my points from the old loyalty scheme transferred to the new Brands you Love for Less Rewards scheme?
Your Rewards points will have been changed purely to reflect the difference between the old and the new points schemes. Under the old loyalty scheme you were rewarded 3 points for every £1 spent, compared to the new Rewards scheme of 1 point for every £1 spent (*).
Although your points have been reduced, whether you are about to redeem your points or you are still working towards your Rewards points target, we can absolutely guarantee that you will either be in a position to spend your Rewards points far sooner, or you will be rapidly reaching your next Rewards target under our new Brands you Love for Less Rewards scheme.
(* Excluding shipping)
EXAMPLE: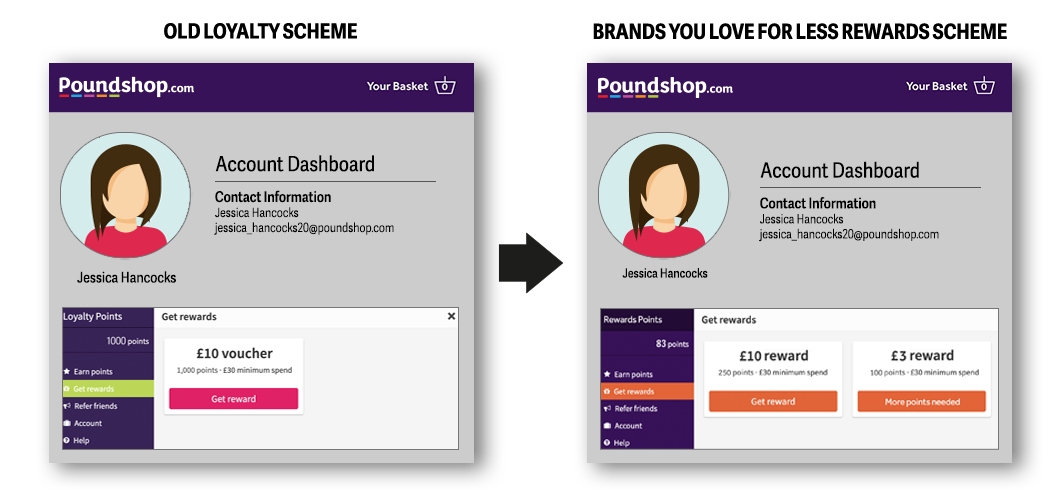 Just as an example, our customer Jessica, had already accumulated 1,000 points under our old scheme, for which she would have been entitled to a £10 discount voucher. Under our new scheme, Jessica with her 333 Rewards points (1,000/3) will not only be able to claim her new £10 Reward Voucher by redeeming just 250 Rewards points but she will already have a balance of 83 Reward points towards her next Rewards Scheme target.
---

---

For more information on the Brands you Love for Less Rewards Scheme, please follow the link below:
---